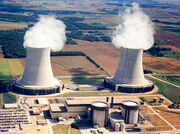 Also known as Evidence-based policy, Evidence-based politics is an attempt to create a science of information management and policy decision making that would provide a scientific foundation for politics. Central to evidence-based politics is transparency. All data upon which political decisions are based needs to be open to discussion. Decisions must be based on thorough analysis of all available data, not just the data that fit pre-concieved policy. Proposed ideas must be openly exposed to critical testing against the best available knowledge, not hatched in back rooms. In addition to reliance on open government, evidence-based politics requires a system of community-based research and citizen engagement with policy development. Evidence-based politics is the opposite of faith-based politics.
External links
Edit
Ad blocker interference detected!
Wikia is a free-to-use site that makes money from advertising. We have a modified experience for viewers using ad blockers

Wikia is not accessible if you've made further modifications. Remove the custom ad blocker rule(s) and the page will load as expected.